With a high profile opening in Chelsea, that operates 24 hours a day, typically serving 500 covers each eating three small plate dishes from the Venetian inspired menu Polpo needed highly reliable preparation, cooking and holding equipment.
The bespoke solution came from the Polpo Group's experience, the vision of Executive Chef Jason Wass and CCE Group choosing equipment from Valentine and sister company Cuisinequip.
"We needed a cooking range that took the best points from existing Polpo restaurants, that could fit into the limited space of our new Chelsea site and of course to cope with a diverse menu, 24-hour operation and still produce the high-quality dishes we are known for," says Jason Wass.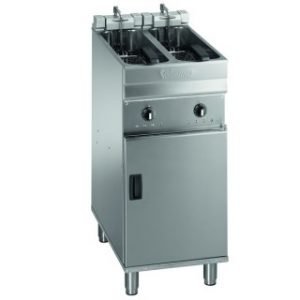 The range at Polpo Chelsea has a built-in twin-pan Valentine Evo 2200 fryer, two twin induction hobs with four x 8kw multifunction coils to allow for cooking with smaller pans at service time, or larger plans for mise en place. Hold function is standard on this type of induction from HWM keeping the base of the pan at the set temperatures of 70, 95 or 110°C; thereafter the control becomes a graduated power until full power is delivered at position 9. There is also a small deep-pan griddle which can be used for grilling food, or as a bratt pan for making sauces, soups etc. Lastly, a 4 x 1/3 G/N wet well bain-marie was fitted into the range for use during service times. The space under the hob was utilized by fitting a single drawer Adande unit to offer chilled storage at the point of cooking for the chefs. All HWM built cooking ranges have a strong 4.5mm stainless steel top and are fully welded for longevity, backed up by a five-year warranty on the induction system from Cuisinequip.
Talking about the performance of the range, plus the menu and service it handles Jason adds, "The menu is broken down into different stations and the equipment has been specified to turn it out quickly without any compromise on quality. For example, the meat balls are held in the ban-marie, the Valentine fryer handles dishes like the Arancini and Salt Cod Crocchette and the induction suite gives controllability for vigorous and gentle cooking that many of the other dishes require.
"We have taken our time to learn what works and what does not at our other London sites and to invest in high-quality equipment that we know will not let us down in the very demanding service environment at Chelsea. In fact, it's performing so well that we plan to roll out this bespoke range to the other Polpo restaurants where we know it will deliver the best for our menus."
Jason and his team worked with Steve Elliott from Valentine/Cuisinequip and David Bentley, design director at CCE Group for the design aspects of this project. Valentine & Cuisinequip's Charlie Hale and David Judge from CCE Group facilitated the installation so that the kitchen could hit the ground running just in time for the start of the Chelsea Flower Show.