Valentine Equipment and sister company Cuisinequip were recently recommended by CCE to provide and install a mix of cooking equipment including induction hobs and fryers for the Les Rocquettes Hotel, part of the Guernsey-based Sarnia Hotels Group.
Calum Le Noury, general manager for the Sarnia Hotels Group, talks about why they chose induction and worked with Valentine and Cuisinequip, u201cWe first used induction equipment in the main kitchen of Mooreu2019s Hotel four years ago. The equipment was okay, but the technology has moved on since then and I saw the potential benefits of continuing to use induction in its latest up-to-date form. It was natural then when we were planning to refit the kitchen at Les Rocquettes Hotel this year that I decided to take it to the next level.
u201cOn this project it was very important to get quality equipment that would be reliable and stand up to a very busy kitchen environment. I wanted innovative solutions to improve working conditions for our staff; this meant looking at everything from work flow to air temperature in the kitchen.u00a0I worked with Jon Bartlett from Valentine and Cuisinequip back in the 1980u2019s when we were both chefs and had been talking to him about their equipment at a trade show, so when kitchen designers CCE recommended installing this equipment I knew that I could go ahead with confidence. Energy saving was also an important consideration and both the Valentine fryers and the induction hobs from Cuisinequip certainly deliver on that front.u201d
u201cThe Valentine fryers are saving us money in both energy and oil usage and have a really quick temperature recovery. The improved efficiency of this kitchen means that my chefs are under less pressure and are happier in their work.u201d
Talking about future developments for the Sarnia Group, Calum, says, u201cWe are currently undergoing a total refurbishment of the Library Bar at Mooreu2019s Hotel in St Peter Port. This is scheduled to reopen in April 2018 under a new name and serving modern British comfort food with our own unique twist. This is an exciting project where we will be opening up the old wine cellars with restaurant tables and it will have an open kitchen so aesthetics will be very important. The new kitchen will feature Valentine fryers and double induction hobs from Cuisinequip. The new kitchen at Les Rocquettes has proved so successful that I wouldnu2019t dream of using any other equipment. There are future projects planned and we look forward to working closely with Valentine and Cuisinequip once again.u201d
Jon Bartlett, account manager for Valentine Equipment and Cuisinequip, concludes, u201cI have worked closely with Sarnia Hotels in various roles throughout my career and I am honoured to be involved with their latest projects. Calum has a great vision for the future of this prestigious group and I wish him and his team the very best and look forward to seeing the completed restaurant at Mooreu2019s Hotel where my career first started.u201d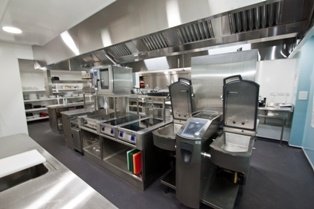 Les Rocquettes Hotel, head chef, Said Acharki, adds, u201cMy team and I love working in the new kitchen. The speed of the 5kW induction hobs from Cuisinequip is incredible and I never would have believed what a difference they could make to our working practices and production speed. The working environment is now safer and so much cooler than it used to be.